A recent report that the House of Representatives is considering phasing out the NYSC program has got people discussing, for the umpteenth time, if the compulsory youth service should be scrapped or not. There are reports that the bill, proposed by Awaji-Inombek Abiante, the lawmaker representing Andoni-Opobo/Nkoro Federal Constituency of Rivers, to discontinue the program is set to receive a second reading.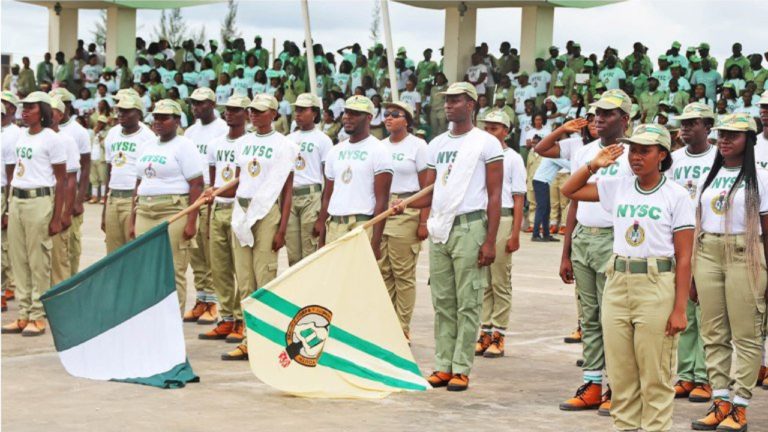 While some people are rejoicing over the possibility that NYSC could be no more, other people are insisting that the youth service is an integral part of building patriotism in the Nigerian youth.
We all know why the National Youth Service Corp was established, so we will not bore you with the reminder that NYSC was created as an avenue for the reconciliation, reconstruction, and rebuilding of the nation after the civil war. If you read the objectives of the scheme on the  NYSC website, you'll understand that the core purpose of the scheme is to instil unity and harmony amongst Nigerian youths by bringing people from different religions, tribes, ideologies, location, and so on, together, and help them develop "a sense of corporate existence and common destiny of the people of Nigeria." It is also to "enable Nigerian youths acquire the spirit of self reliance by encouraging them to develop skills for self employment."
Now, the big question is, has NYSC served its purpose? Maybe. Is it still serving that purpose? To this, the answer is no.
Nigeria is perhaps more disunited than it was several years ago. And when it comes to meeting people from all walks of life, technology has already brought us here. While it may not be the same as meeting people physically, the internet (read social media) has, to a large extent, made the world 'smaller' and brought people closer. People are organising meetings off social media apps. People are planning trips, setting up bookclubs, organising parties and having conversations – irrespective of their colours, tribes, and religion. While NYSC is an amazing opportunity to meet people (heck! Some people even meet the love of their lives there), many people do not need the scheme to build solid relationships.
The truth is that if the federal government wants Nigeria to be united, they do not really need NYSC to achieve that. Unity is, to a large extent, driven by the actions or inactions of the government and if statements from the Federal Government of Nigeria and federal appointments truly reflects federal character, there'll be no need to use NYSC to forge national unity.
In enabling Nigerian youths acquire the spirit of self reliance by encouraging them to develop skills for self employment, the NYSC scheme does not also get a pass mark. Yes, a few people here and there have learned a skill or two but what is the percentage of people who have developed skills for self employment from NYSC? If there is a database for that, it doesn't reflect in the NYSC website. How many people have, after the one-year program, been able to build start-ups from the 'skills' being taught in NYSC? How productive have the SAED programs or CDS been? How has it impacted the lives of the corp members?
One of the reasons Awaji-Inombek Abiante gave for the scrapping of the scheme is the "incessant killing of innocent corps members in some parts of the country due to banditry, religious extremism and ethnic violence…" With the spate of insecurity in the country, many corp members have been killed as they travelled to or fro their camps. Some have died in the hands of overzealous policemen and many have lost their lives in camps. As it is, traveling across Nigeria seems to be one of the 1000 ways to die, and if the federal government cannot assure corp members of their safety, why allow them travel through states to get to camp? If the lives of corp members are not secure, then there's no point in keeping the scheme.
On another note, NYSC has also been good for many young Nigerians. Graduating from the university comes with the fear-inducing question: what do I do with my life now? For many young people, NYSC is a good stopgap; it buys them a year to think and strategise. It exposes them to the 'labour market'. For some, it is a safety net; in a country with over 30% unemployment rate, that 33,000 Naira goes a long way in the lives of millions of young Nigerians. Many people have saved up and started a business from their 'allawee'. People have also gotten clarity within the year by working in organisations they were posted to. Again, we need data to show the impact this scheme has had in the lives of Nigerian corp members – past and present.
The NYSC scheme may come with its own challenges, but it is not entirely obsolete or useless. Perhaps, rather than scrap the scheme, we all need to go back to the drawing board and come up with ways in which the scheme can be relevant to present-day Nigeria. What can we do better? How can we make it better?
In a world where tech is taking the cake, how can we incorporate it into our scheme? Rather than SAED programs – where many corp member go to sleep, by the way – can we teach skills that are applicable to the time in which we live – coding, web designs, and so on? Skills that are in tune with the requirements of companies in and beyond Nigeria. Can we incorporate the arts and culture – painting, sculpting, and so on? You cannot be teaching graduates how to make chin chin, knit, or make liquid soap when they can easily learn that on YouTube. The scheme should be able to prepare them for the world beyond NYSC.
When it comes to the NYSC program, there are two sides to the coin – some lose because of it and some benefit from it. So what do you think? Should the program be phased out or nah?